WITAMY NA NASZEJ STRONIE
WELCOME TO OUR WEBSITE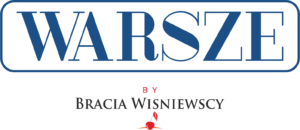 (tak nazywano Warszawę w języku jidysz)
to lokal z nowoczesnym spojrzeniem na stare przepisy tradycyjnej żydowskiej
i warszawskiej kuchni z  początku XX wieku.
Z czasów kiedy zapach podawanych dań w knajpkach
i restauracjach wydobywał się na ulicę Warszawy i zapraszał do swych wnętrz.
Chcemy aby wybrali się Państwo z nami w przepyszną podróż
po ulicach starej przedwojennej Warsze,
bogatej kulturowo w smaki i zapachy.
(this is how Warsaw was called in Yiddish)
is a place with a modern approach to old traditional Jewish
recipes and Warsaw cuisine from the beginning of the 20th century.
From the times when the smell of dishes served in pubs
and restaurants was coming out to the streets of Warsaw and was inviting to their interiors.
We want you to go on a delicious journey with us
along the streets of the old pre-war Warsze,
culturally rich in flavors and fragrances.
Restauracja znajduje się na poziomie 0, za przeszkloną ekspozycją synagogi z Gwoźdźca.
Restauracja jest czynna w godzinach otwarcia muzeum
Wejście do restauracji nie wymaga zakupu biletu do muzeum.
Grupy zorganizowane, osoby zainteresowane zorganizowaniem przyjęcia lub innego wydarzenia w restauracji czy też dokonaniem rezerwacji zapraszamy do kontaktu pod adresami: 
restauracja@warsze.pl lub rezerwacje@warsze.pl.
THE RESTAURANT IS ON LEVEL 0, BEHIND THE GLAZED EXPOSURE OF THE SYNAGOGUE FROM GWOŹDŹCA.
THE RESTAURANT IS OPEN AT THE MUSEUM'S OPENING HOURS
TO ENTRY TO THE RESTAURANT DOES NOT REQUIRE THE PURCHASE OF A MUSEUM TICKET.
ORGANIZED GROUPS, PEOPLE INTERESTED IN ORGANIZING A PARTY OR ANOTHER EVENT IN A RESTAURANT OR BOOKING, PLEASE CONTACT US AT THE ADDRESSES:
RESTAURACJA@WARSZE.PL OR REZERWACJE@WARSZE.PL.